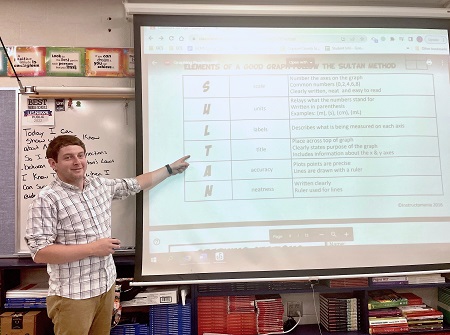 Fourth-year Grayson County Middle School Science teacher J.J. Frye has been selected as one of only 10 middle school science teachers nationwide for the prestigious National STEM Scholars Program.
Frye has developed a project to systematically analyze all water sources throughout Grayson County through chemical testing to look for contaminants and determine its sources. He hopes to share the project with students through field trips or in other real-world environments.
The project will be fully funded by the program and he will present it at the 2024 National Science Teacher Association conference.
He'll also spend a week at WKU in late May participating in hands-on science activities as he continues to learn with skilled science educators and connects with speakers and thought leaders in STEM education.
The National STEM Scholars Program is hosted by WKU and funded by a grant from the National Stem Cell Foundation.
(Photo: GCMS Science teacher J.J. Frye, courtesy of Grayson County Schools)
By Grayson County Schools and Ken Howlett, News Director