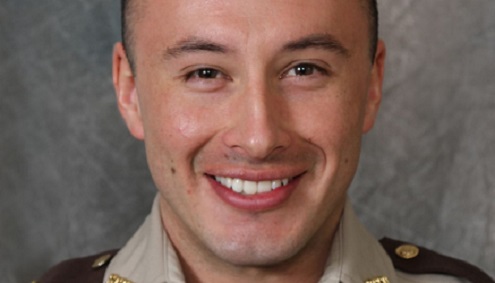 The Scott County Deputy Sheriff shot last week while assisting U.S. Marshals and Kentucky State Police capture a Florida bank robbery suspect is paralyzed.
On Monday, the Scott County Sheriff's Office announced that Jamie Morales, a two-year veteran of the sheriff's office, was 90 percent paralyzed after being shot in the back. Authorities said Morales is off a ventilator and likely to be discharged from University of Kentucky Chandler Hospital later his week before entering a spinal rehabilitation center. Morales underwent two surgeries within 24 hours after being shot.
Kentucky State Police said that at approximately 10:15 Tuesday night, September 11, Scott County deputies and the Georgetown Police Department were assisting the U.S. Marshal's Office in apprehending 57-year-old Edward Reynolds, who was wanted for two bank robberies in Sarasota, Florida.
The Scott County/Georgetown Special Response Team (SRT) initiated contact with the suspect at an I-75 rest area, according to police, with the preliminary investigation showing that when the SRT squad confronted Reynolds the suspect was shot and killed, with Morales also suffering a gunshot wound.
Reynolds was pronounced dead at the scene by the Scott County Coroner's Office.
By Ken Howlett, News Director
Contact Ken at ken@k105.com or 270-259-6000