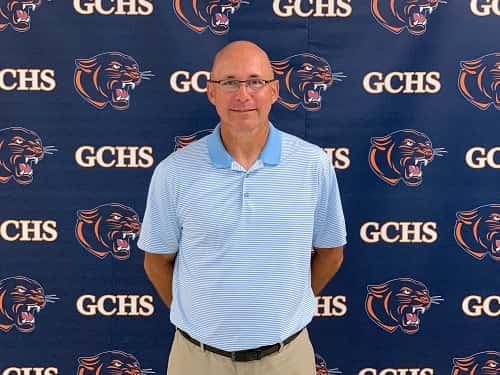 In an announcement on Friday afternoon, Grayson County High School announced Ted Hill as their next head coach for the Lady Cougar basketball program.
Hill will replace Josh Basham, who resigned last month after accepting a principal position at Caneyville Elementary. Basham was the head coach for two seasons
Hill was previously the head coach of the Ohio County Lady Eagles where he amassed a 66-28 record in three seasons which included the 2010 3rd Region championship. He was also the head coach at Edmonson County from 2012-15.
The new head coach said that he and his wife, Amber, had their first date scouting the Lady Cougars at the Cougar Den. Amber recently accepted a position at Wilkey Elementary. While not official, it is expected that she will become the head coach of GCMS's girls teams. The Hill's have two daughters ages 9 and 11.
GCHS principal Josh Baldwin said, "We think this is a home run hire. He has been very successful in every sport he has been involved in."
On the program, Hill said, "I've always said that I thought this would be a great place to coach."
The Lady Cougars will return 92% of their scoring from last season's team that finished with a record of 11-16 before falling in the 12th District tournament. While he admitted that he didn't know a lot about the team from a year ago, Hill said he believes that is a good thing. "Everyone starts off fresh… we're not related to anyone, we don't know anyone… everyone starts fresh."
On the style of play, he said, "I am not a 32-29 guy, if I am going to lose it's going to be 84-82… my number one rule is if you're open shoot it, if you're not pass it… we will be pressing 32 minutes a game."
His expectations are simple, "We didn't come here to just win districts, we came here to hang banners."
The KHSAA's dead period begins next week so the new coach won't get his first look at his new team until July.
By Sam Gormley, Play-By-Play Announcer/Local Sports
Reach Sam at sam@k105.com