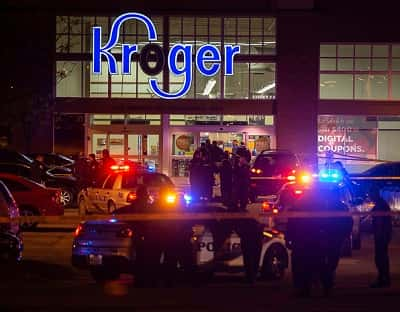 A man who fired shots inside a Louisville Kroger store has been shot and killed by police.
Louisville Metro Police responded to the shooting at approximately 6:00 Thursday evening in the 500 block of North 35th Street, in the Portland neighborhood.
Louisville Metro Police Department Chief Steve Conrad said in a news conference Thursday night that the suspect exited the store and fired shots at officers.
"The man that was shooting inside the store … came out of the store, was firing as he exited the store, fired shots at our officers, our officers returned fire, killing that man," Conrad said.
WAVE3.com reports that witnesses told police that two people began arguing inside the store just before the shooting. Witnesses said one man pulled a knife while the other man brandished a handgun.
The name of the person who was killed has not been released. No one inside the store was injured.
Kroger officials issued the following statement on the shooting:
We are deeply saddened by the shooting incident that occurred around 6:00 p.m. today. Thanks to the quick response of the local police department our store is now secure. The safety of our customers and associates is our first priority. Our store is closed and will reopen after the investigation concludes. Kroger is grateful for our trusted partnership with the LMPD and stand ready to assist in any way.
In late October of last year, then-51-year-old Gregory Bush killed two African-Americans in a racially motivated shooting at the Jeffersontown Kroger store.
(Photo courtesy of the Courier-Journal)
By Ken Howlett, News Director
Contact Ken at ken@k105.com