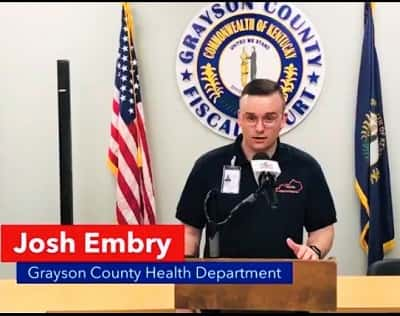 Grayson County now has two confirmed coronavirus cases.
Grayson County Health Center Director Josh Embry announced the second confirmed case, a 46-year-old woman, at an afternoon briefing held by Grayson County Judge-Executive Kevin Henderson.
K105 reported Wednesday morning the first confirmed case of the virus in Grayson County, a 19-year-old female.
Embry said that seven people who have been in contact with the two COVID-19 patients have been quarantined. Embry noted that not all seven of those quarantined live in Grayson County.
In a Facebook post, Leitchfield Pediatrics says the 19-year-old female is a patient and not an employee of the office, and that the "patient is in self-quarantine at their home."
"Our staff continues to follow the most current CDC guidelines and we are doing everything possible to prevent the spread" of the virus, Leitchfield Pediatrics said in its Facebook post. "Please continue to wash your hands and cover your coughs and practice social distancing …"
Currently, Kentucky has 198 confirmed cases of COVID-19 in the state, up from 163 on Tuesday. Along with Grayson County, McCreary, Wayne, and Laurel counties reported their initial confirmed cases of the virus on Wednesday.
By Ken Howlett, News Director
Contact Ken at ken@k105.com