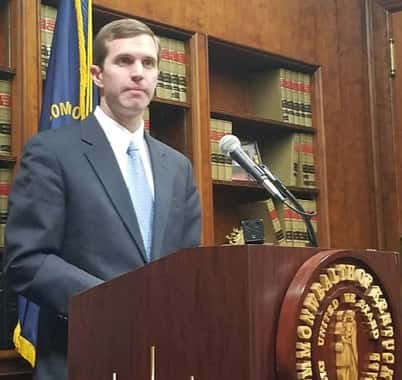 COVID-19 cases in Kentucky have reached nearly 200 cases, Gov. Andy Beshear said Wednesday afternoon at his daily briefing on the coronavirus pandemic.
Beshear said there are now 198 confirmed cases of the virus in the state, up 35 from Tuesday. Since late Friday night, there have been 135 COVID-19 cases diagnosed in Kentucky. A fifth person has fallen victim to coronavirus as a 75-year-old Jefferson County man has died, accordng to Beshear.
Kentucky's fatality rate of 2.5 percent is slightly lower than the world-wide average.
Jefferson County continues to lead the state in COVID-19 cases with 43, while Fayette County has 32 cases. Kenton County, in northern Kentucky, has surpassed Harrison County with the third most cases with 12. Harrison County has 10 confirmed cases of the virus.
Of course, as reported by K105, Grayson County now has two confirmed cases of coronavirus after a 19-year-old female and 46-year-old female were diagnosed Wednesday.
"The next two to three weeks are going to be absolutely critical in our battle against the coronavirus," Beshear said. "What you are doing is working. Your sacrifice is helpful. What we have done and the steps we are taking are helping. I am proud of what we are doing, but in these next two weeks we have to do even better."
Beshear tightens restrictions
Effective Thursday night at 8:00, all non-life-sustaining businesses are being told to cease in-person services.
"We want everyone to be healthy at home, which means we want you to go to the grocery store, bank and pharmacy, but what we don't want you to do is stay in the bank or a grocery store just to be out of the house," La Tasha Buckner, the governor's chief of staff said. "As you need those things, please go there and spend the minimum time you need to get what you need and move on."
The businesses that remain open include: grocery stores, drug stores and pharmacies, banks, hardware stores, agricultural operations, gas stations, media, businesses needed for transportation, logistics, shipping, delivery and pick up, housing, building and construction, laundry, financial services, home-based care and services, professional services, manufacturing and other businesses key to national interests or life-sustaining goods or services, and those covered under the federal critical infrastructure sector.
Most professional services, including attorneys, accountants and those in real estate, can be performed at home. As Beshear has said previously, restaurants may remain open for delivery, curbside pickup and even carry out if they follow guidelines on social distancing.
Find the entire executive order issued on Wednesday by clicking here.
Beshear also banned residential evictions under a state of emergency declaration.
Unemployment insurance expanded
The governor said unemployment eligibility has been expanded effective immediately due to COVID-19.
Individuals typically not covered by unemployment insurance, including self-employed, independent contractors, freelance workers, substitute teachers, childcare workers employed by religious affiliated organizations and non-profits can now file. Those who left their job for "good cause" because of reasonable risk of exposure (self-quarantine) or due to caring for a family member affected by the virus are also eligible. To file a claim, visit kcc.ky.gov.
Drive-through testing
Beginning next week Kentucky will have the first drive-through testing facility for the coronavirus.
"It will start hopefully on Monday with a single location that will be for very specific individuals that are showing symptoms," Beshear said. "This is a proof of concept. Provided the proof of concept works we may be able to expand it further from there."
The governor stated that more details on the drive-through facility would be issued Thursday.
National Guard presence at hospitals
The governor said Kentuckians would begin to see National Guard and additional law enforcement at local hospitals beginning this week.
"We are just making sure everyone inside our hospitals is safe as we see a surge in coronavirus cases," Beshear said. "Remember the National Guard are people you work with and see every day; they just don't wear their uniform. They are going to help us get through this time to make sure we can help everyone who needs help."
Beshear continues to urge Kentuckians to be cautious of rumors and depend on proven and good sources of news, including governor.ky.gov, kycovid19.ky.gov and the governor's official social media accounts Facebook, Twitter and YouTube.
By Ken Howlett, News Director
Contact Ken at ken@k105.com